Online CPD for teachers and school staff
Over 150 hours of flexible professional learning content. Research-based modules from leading practitioners. Interactive supporting activities to embed knowledge in classroom practice.

Browse modules
Get quote
Our latest CPD topics
Click to learn more about each module topic and watch a taster.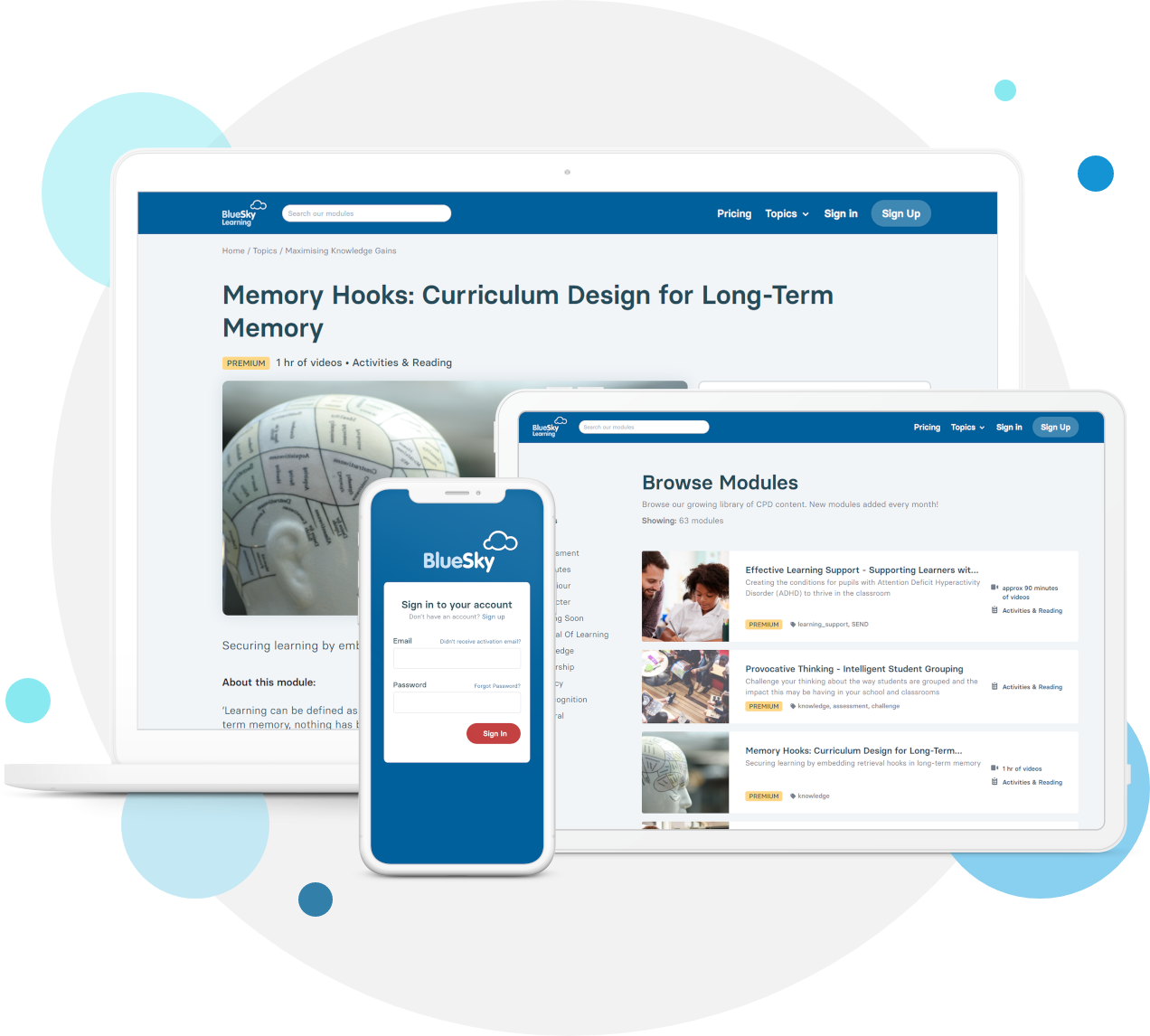 Focused interactive CPD for all school staff
Research-based modules from leading practitioners
Affordable annual subscription includes all school staff
Unlimited access to growing learning library
Strategically target and manage learning
Interactive supporting activities to embed learning
Seamlessly evaluate progress and impact
High quality online CPD at an affordable price
To learn how your school or trust can subscribe to over 150 hours of high-quality professional learning content, simply fill in the form or call us on +44 (0)1483 880004
Annual subscription starts at just £250 per year - learn more here.
What our customers say about BlueSky Learning
"I have really enjoyed this course on using technology to assist with workload. I can see many benefits to further developing the use of the different technology features to support both staff and students. I am excited to go away and test using some of the examples and showing my colleagues how these applications can help them in their daily work."
"As an LSA, I have picked up some useful strategies in supporting students with ADHD."
"Very useful indeed. I will take what I have learned and apply it practically in the classroom. I believe that it will help greatly with student behaviour."
"Good topics, short courses and benefiting from other practitioners."
"Helpful way to keep Professional documentation and organise CPD."
"It's useful to have as with our teaching load, we don't get too many opportunities to do courses in person."
"High quality resources which can be adapted to suit context."